Human Rights are universal rights that belong to every human being without any exception. They are discussed in Lithuanian and foreign press and media; there are many human rights protection organisations which are currently active. And many research articles have been written on this subject. In addition, various declarations and charters on human rights have been signed by many countries. But what do we have in our minds when we think of the term "human rights"? How familiar and strange is this term for contemporary youth? How much do we know about our own and other peoples' rights? What is the Universal Declaration of Human Rights, signed on the 10th December, 1948?
 With these questions and contemplations the representatives of youth organisations from seven countries gathered in a training course on human rights education "Empowering the Learning - Discovering the Rights". The course was held on 18-25 July, 2010, in Cosnita, Republic of Moldova, organised by an NGO "My Tutor" (Lithuania) and "Youth Generation" (Moldova). In total, 30 participants attended, coming from Azerbaijan, Armenia, Georgia, Moldova, France, Poland and Lithuania, representing a broad variety of cultural backgrounds, each with a different perception of human rights. This project is a result of successful cooperation between non-governmental organisations from these counties.
Human Rights Education is education not only about, but also for human rights. Human Rights Education is all about helping people to develop to the point where they understand human rights and where they feel that they are important and should be respected and defended.
The participants were first introduced to the history of human rights, to the main documents and organisations working with human rights as well as to those organisations and institutions that can have influence on human rights development. The course was based on non-formal education methods and therefore the theoretical part did not employ "dry" teaching methods. The organisers and trainers have chosen rather interactive and interesting information presentation methods. The main dates relating to important human rights history developments and reaching as far back as the 6th century BC were explored while working in small groups and setting the puzzle game. After examining information about the most important international organisations dealing with human rights protection, the participants presented their own organisations' activities, their opinions and assessments.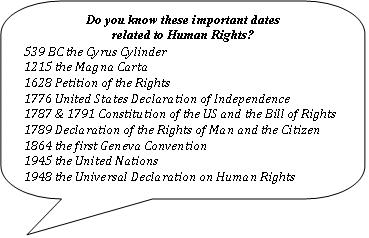 "I never thought that learning human rights theory can be so interesting and funny", said Ieva (participant from Lithuania). "Interactive and non-formal education methods provide the best approach", added Lilit (participant from Armenia). All participants had great fun while familiarizing themselves with human rights history and related organisations; they were very active in the various ensuing discussions.
Many good feelings were aroused during the simulation game when participants had to undertake the role of worlds' most important human rights workers and promoters, and to try to present important information about human rights protection to the auditorium of small children. In this way the youngsters had to find inventive methods in order to meet the goal and to transmit the message such that it was most easily understood.
The next day the human rights facilitators were working actively with human rights reality and cognition. They researched various daily newspapers and magazines while looking for topics and hidden stories related to human rights violation and protection. The participants compared found stories and pictures of the situations in their home countries. They discussed the reasons and were looking for solutions that would eliminate human rights violation or would increase human rights protection.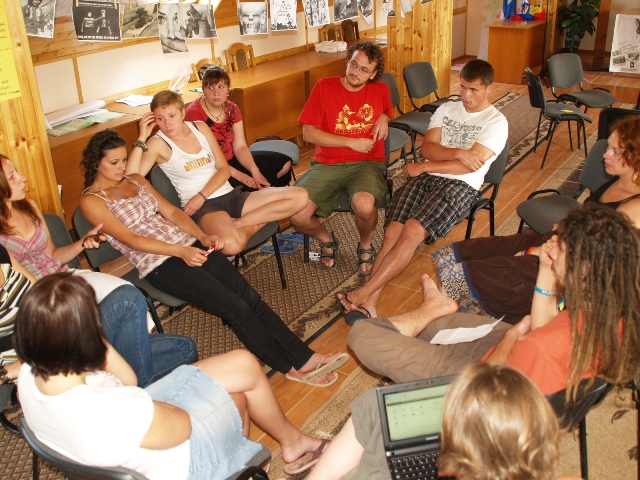 After familiarizing themselves with theoretical basis of human rights the trainees moved on to training in human rights education and developing human rights facilitator's skills. They will need all this while encouraging and motivating their communities' members and friends to become aware of, and to use and to protect human rights. The participants exercised their human rights facilitators' skills by using "brain-storming", discussions, listening, speaking and communication simulation methods. However, the most interesting aspect appeared to be the interactive communication and presentation skills training method. This method is based on self-analysis and learning from one's own mistakes. The participants were filmed during their human rights topics presentations and each of the filmed presentations' strong and weak communication points were discussed in the auditorium. According to Chingiz, participant from Azerbaijan - "Such interactive learning from our own mistakes is very useful. I even did not think that the way one stands or the way one holds his hands during the presentation can influence the success of the presentation". The rest of participants also agreed with this.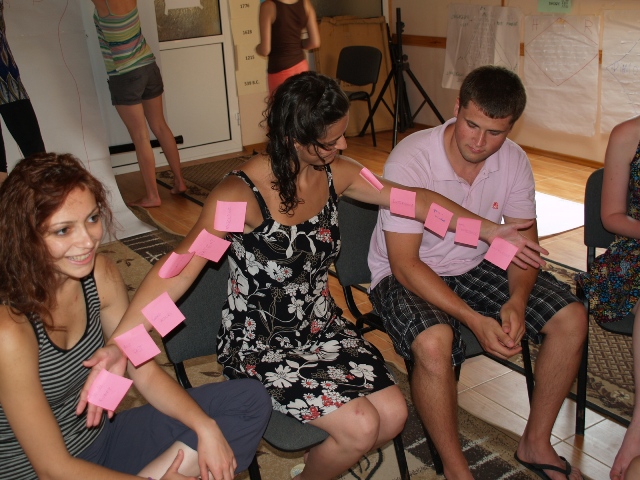 During the project implementation much significance was attached to proceedings related to human rights in Europe. While visiting Chisinau, the training course group was invited to visit Amnesty International, Moldova branch. Participants were welcomed by employees of the international organisation and were introduced to organisations human rights education and protection activities and campaigns. The representatives of Amnesty International Moldova were asked many interesting questions and gave good informative answers. Training course participants had also the possibility to contribute to the implementation of Amnesty International Moldova projects when signing petitions for human rights protection in Moldova.
After each interesting and prosperous training day, the international youth was keen on continuing non-formal communication. During the intercultural night, all the various participant countries presented their traditions, cuisine, songs, dances and games. During the film night about human rights violation and protection the whole "cinema hall" was full. In the organisation market the participants introduced to each other their respective organisations and their activities and initiatives; they shared common ideas regarding future cooperation and new projects.
The last days of the entire week of international youth training course on human rights education also ran profitably – the "Youth in Action" Programme, its actions areas as well as wide possibilities within it was presented to the participants. New ideas, goals and visions of further project cooperation were discussed and developed, employing open space working methods. It is probable that following this training course other projects will be developed, based on different countries cooperation, common ideas and non-formal education.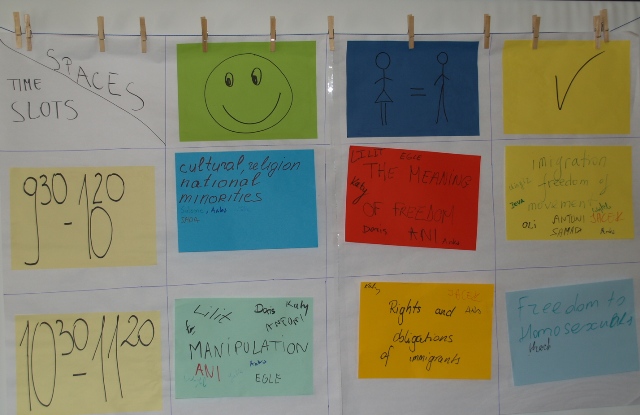 Taking all this into consideration, this training course was very valuable for further human rights development since the human rights topic was discussed and analysed in a circle of young and active people. It is the youth, through constantly educating and forming skills, broadening horizons and gathering knowledge which will provide the foundation for a responsible future society, which will be aware of, respect and protect its own and others' political, socio-cultural and economic rights.
NGO My Tutor, project applicant and implementer is a non-profit organisation providing professional consultation in higher education including Bachelor and Master thesis writing as well as implementing various projects related to education and non-formal training. My Tutor activities aim at contributing to the quality of higher education in Lithuania, the encouragement of lifelong learning as well as more active community involvement into civil society activities.
This project has been funded with support from the European Commission. This publication reflects the views only of the author. The Commission cannot be held responsible for any use which may be made of the information contained therein.