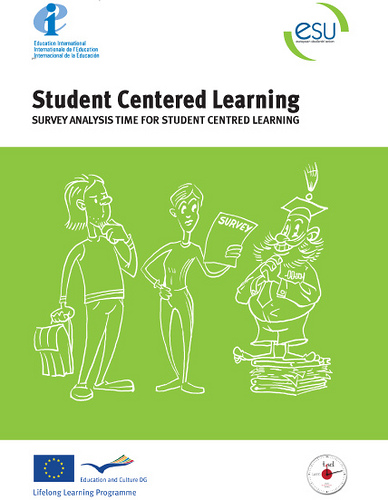 European Students Union and Education International  will present a student-centred (SCL) toolkit  for students and higher education institutions at the Student-Centred Learning stakeholders' forum in Leuven on October 14-17. You can
download the publication
 already now.
The toolkit is written by a team of experts from ESU and Education International. It includes an SCL checklist, tips on how to create a culture that facilitates learning, as well as a list of common misconceptions about SCL. Two chapters are dedicated to SCL implementation by teachers and higher education institutions respectively.
Following on from the initial
desk research
 and
survey
 undertaken with both Education International and ESU member organisations, this toolkit is one of the last initiatives, marking the end phase of the project "Time for a new paradigm in higher education: student-centred learning" (T4SCL). The toolkit follows extensive research and a series of events at both European and national levels, combined with trainings on advocacy for SCL.
The toolkit is designed for effective, practical implementation of SCL by teaching staff, students and institutional leaders. The conference in Leuven will debate relations between the Bologna Process and SCL, student-staff partnerships in achieving SCL, in addition to a presentation of the toolkit by the authors.