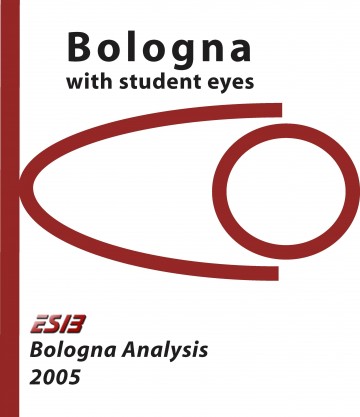 Another European Students' Union publication - "Bologna with Students Eyes" research
For the third time, ESIB is presenting an analysis on the progress of the Bologna Process at European and national level to the Ministerial Summit. "Bologna With Student Eyes" portrays the European Higher Education Area (EHEA) as seen by students and the involvement of students in shaping the EHEA. National unions of students from 36 countries have contributed to this survey with their views, policies and experiences. As compared to the 2005 edition of "Bologna With Student Eyes", a couple of additional countries are covered in this report. However, some countries covered before could unfortunately not be included in this edition.
One of the key findings of "Bologna With Student Eyes" 2005 is still completely valid two years after. There is a worrying "à la carte" approach to implementing the Bologna Process in a significant amount of countries. Besides most Nordic countries, few others can claim satisfactory overall progress in all action lines. Looking at most parties to the Bologna Process the findings suggest that specific action lines are implemented with a higher motivation and passion than others. The Bologna Process is not a pick-and-choose supermarket, but a comprehensive package. Each action line is in some way interlinked with and builds upon several others. Ignoring this, the chances and opportunities of the Bologna Process will not be fully reached in the NATIONAL implementation. Even more worrying, it seems that the social dimension is still the most neglected action line at national level.